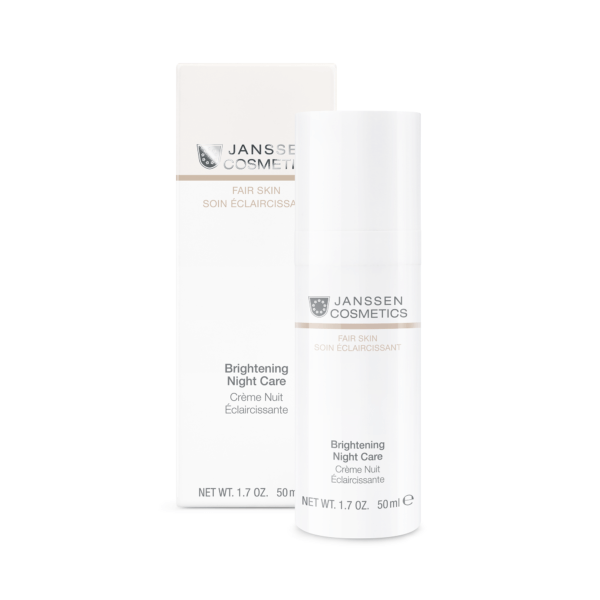 Brightening Night Care Ref. 3321 / 3321P
30.90 €
Brightening night care
Ref. 3320–Home care 50ml , Ref. 3320Р – Prof. 200 ml
Description
Skin brightening overnight care.
Skin brightening and moisturising overnight care, which perfectly complements the Brightening Day Protection product and continuously supplies skin with the effective skin-brightening active ingredient hexylresorcinol during the night.
Description
Additional information
Reviews (0)
Description
Ingredients
• Hexylresorcinol: The highly effective active ingredient is a powerful tyrosinase inhibitor which has been proven to brighten skin by 37% within 8 weeks. In addition, hexylresorcinol exhibits clinically proven anti-ageing effects (significant improvement to unevenness, radiance and fine wrinkles)
• Effect enhancer made from waltheria indica extract, bioactive fruit acids and complexing agent: Waltheria indica extract inhibits the tyrosinase, and the complexing agent binds the copper ion necessary for the synthesis of melanin. Fruit acids support the absorption of the plant extract through gentle peeling, thereby improving effectiveness. Clinical studies show significant brightening of the skin after 8 weeks of use
• Short and long chain: Hyaluronic acid: Intensively moisturising and hydrating
• Saccharide isomerate: Moisturising substance derived from natural sugars; is firmly bonded to the skin keratin and results in optimal moisture penetration of the skin due to its very good water binding capacity
• Isostearyl isostearate: ISIS for short, emollient made from regenerative plant raw materials, improves the cohesion of lipids in the stratum corneum and reduces the skin's transepidermal water loss
Usage
Apply daily in the evening following cleansing and tonic to the face, neck and decollete and gently massage in. Avoid area around eyes.