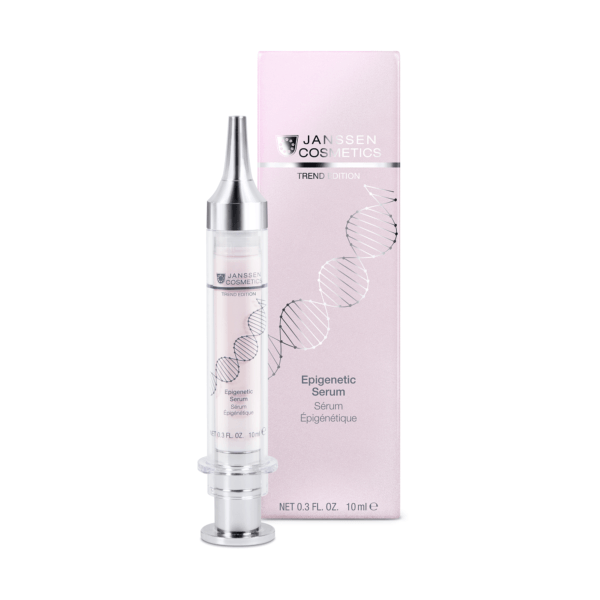 Epigenic Serum Ref. 2931 / 2931P
31.80 €
Epigenetic serum
Ref. 2931-Home care 10 ml, 2931P-Proff. 15 ml
Description
Serum that keeps your skin looking young.
Recent scientific studies show: Our genes don't determine everything. Your activity is governed by lifestyle and intake – both through diet and through the active ingredients we apply to our skin.  
Epigenetic Serum contains an anti-ageing ingredient that minimises epigenetic skin cell alteration caused by external influences and improves skin cell vitality and stress resistance.
The result: Your skin becomes more resistant to the ravages of time, maintaining your youthful radiance.
Description
Additional information
Reviews (0)
Description
Ingredients 
Epigenetic agent: Pot marigold (calendula officinalis) flower extract; rich in oligosaccharides, reduces signs of ageing skin, improves perceived ageing skin
• Long-chain hyaluronic acid: Forms a water-binding film on the skin surface. It offsets moisture deficits and reduces superficial wrinkles caused by dry skin
• Short-chain hyaluronic acid: Penetrates into the epidermal skin layers. There it can be stored and it causes an additional refilling effect from the inside out
• Saccharide isomerate: Moisturiser from natural sugars. This forms a natural bond with the skin's keratin and therefore is also referred to as "moisture magnet"
Usage
Apply Epigenetic Serum every morning and night after washing face and gently massage in. Then apply day or night care as usual.