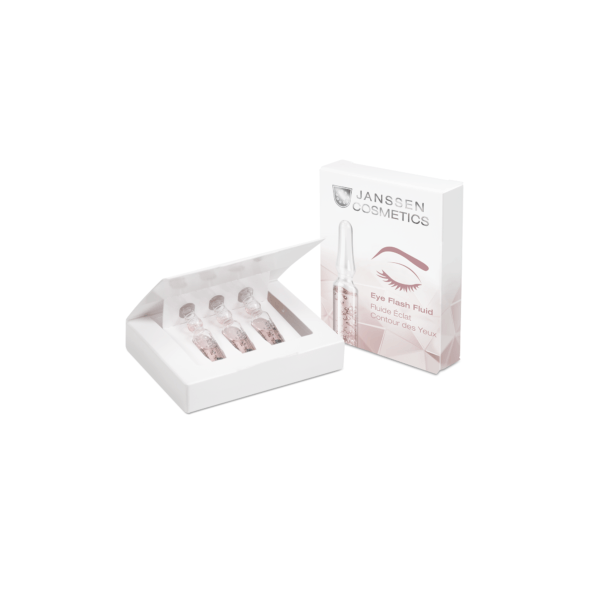 Eye Flash Fluid (lifting for the eye area) Ref. 1900 / 1900P
1.92 €
Eye Flash Fluid
Ref. 1900-Home care 1x2ml , Ref. 1900Р–Proff.. 25×2 ml
Description
Hydrating eye serum with hyaluronic acid and a peptide complex.
Description
Additional information
Reviews (0)
Description
Ingredients
• Long-chain hyaluronic acid: Long-chain hyaluronic acid forms a protective film on the skin by attaching itself to the stratum corneum and deposits moisture there. It nourishes, hydrates and smoothes the skin
• Short-chain hyaluronic acid: Short-chain hyaluronic acid hydrates and preserves moisture in the skin extremely well. It penetrates the outer layers of the stratum corneum, trapping moisture there, and also smoothes the skin from within
• Glycerine: Glycerine is hygroscopic and locks water in the outer layers of the stratum corneum
• Matrixyl 3000 (peptide complex): Matrixyl 3000 contains special messenger peptides (matrikines), which play a role in the skin's natural repair processes. These peptides activate the synthesis of extracellular matrix components in the skin such as hyaluronic acid and collagen and have a noticeable anti-wrinkle effect around the eyes
Usage
Apply Eye Flash Fluid to the area around your eyes after cleansing the skin in the morning and/or at night and pat it in lightly with your fingertips.
To do this, wrap the top of the ampoule in a paper towel before breaking off the top and pouring the contents into the palm of your hand. Then spread the liquid evenly around your eyes and pat it in. This product is for external use only.