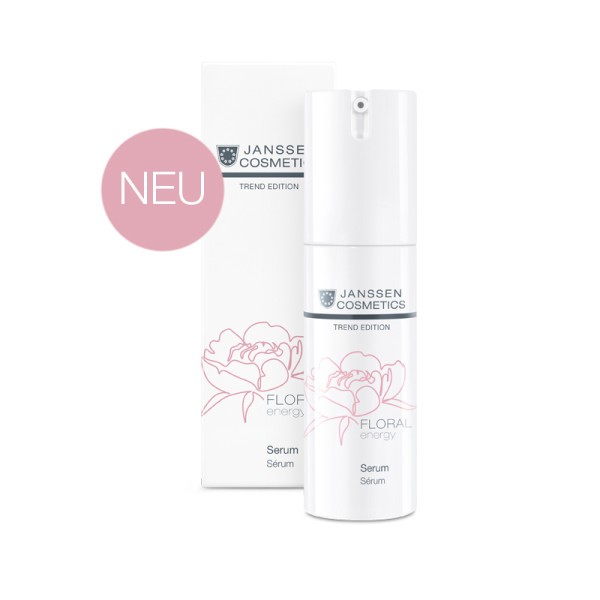 FLORAL ENERGY SEERUM Ref. 83304
39.00 €
Skin strengthening serum for more resistance
Ref. 991.0092-Home care 30 ml
Description
Floral Energy Serum combines highly concentrated flower extracts from edelweiss, alpine rose, lupin, and damask rose to revitalize the skin and strengthen its natural protective barrier.
Alpine rose strengthens the resistance of the skin's stem cells while protecting against UV-induced stress. The edelweiss extract used also supports the skin's natural barrier function and helps it become more resistant to environmental influences. Lupin promotes the production of epidermal proteins and lipids, and thus also strengthens the skin's barrier function. Rose water has an antioxidant effect and protects against free radicals. Finally, the deep-acting anti-aging serum scores points with its plumping hyaluronic acid and precious nourishing lipids such as macadamia nut oil and shea butter.
The result? The skin appears smoother and more resistant, wrinkles are reduced, and the skin looks fantastically radiant.
Description
Additional information
Reviews (0)
Description
INGREDIENTS
Alpine rose stem cell extract: Increases the vitality and energy of the skin's own stem cells and protects against UV-induced stress at the same time
Edelweiss extract: Natural antioxidant, rich in antioxidant leontopodic acid, supports the skin's barrier function, increases its resistance to external stressors
Rose water: Rich in phenols that have an antioxidant effect, revitalizing the skin and protecting it from free radicals
White lupin extract also promotes epidermal protein synthesis, restricts transepidermal water loss (TEWL) and strengthens the skin's barrier function
Hyaluronic acid (short and long chain): Provides the skin with long-lasting hydration. Fills out fine lines and wrinkles
Macadamia nut oil: A natural oil extracted from macadamia nuts that absorbs well, nourishes the skin and leaves it soft and supple
Shea butter: Natural emollient from the shea nut; makes the skin soft and supple
Silica: Mattifies the skin
USAGE
The Floral Energy Serum is the final step of the spa treatment. Apply a small amount (around 2 pumps) into the hand and spread it evenly onto the face. Massage in by patting gently for several seconds until the serum has been completely absorbed by the skin. Follow up with our Super Hydrating Cream from the Dry Skin range as recommended.
Application at home
Apply the Floral Energy Serum in the morning and evening before the corresponding cream.